As a little holiday present to myself, I ordered this: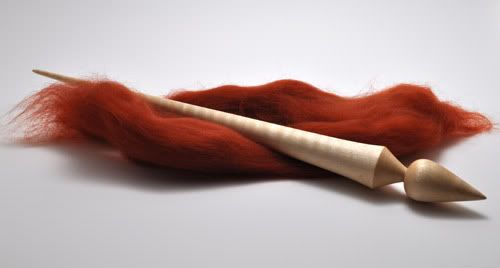 That's a Russian-style supported spindle, superbly made by hand by Lisa Chan of Gripping Yarn. Supported spindles, unlike drop spindles, rest on a hard surface while spinning. This makes them great for working with delicate fibres and very fine yarns, and can be easier on the hands and arms as well since there's no ever-growing weight to hold up. It's a different style of spinning–I've spun on a Takhli, which is a supported spindle, but there's a notch at the top to hold the yarn which makes it more like my drop spindles. Russian spindles, as you can see, have no hook or notch to hold the yarn. One hand drafts the fibre (long draw), and the other both twirls the spindle and holds the yarn in a vertical position so twist can enter it. Youtube has a few decent videos of the technique.
There are a few artisans currently making Russian-style spindles, but I went with Grippingyarn's after reading the positive reviews on Ravelry. I liked that sustainable woods were an option, and that there's no polyurethane finish–what you feel is the grain of the wood itself, not a plastic coating. I selected a sustainably-produced curly maple spindle, and within a week Lisa had it turned on the lathe, finished, and mailed off to me. It's lightweight, smooth, and very balanced. Here's a look at the pattern in the wood, which catches the light when you turn it: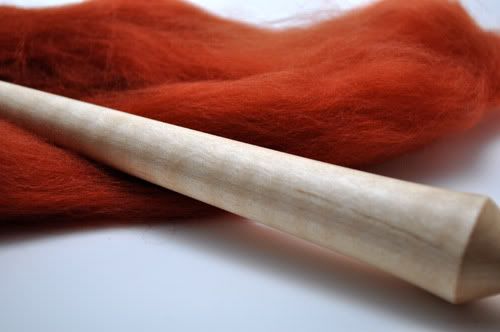 Lisa included a tuft of Merino top, which is the russet fibre in the photos. I had to pre-draft it quite a lot and the spinning was slow going, but next I'll spin a puni or rolag which is better suited to the long draw style of drafting. I did manage to get the hang of the technique and produce a bit of actual yarn!
It's hard to find local sources of the shorter down fibres this kind of spindle is meant for–not many cashmere goats in Ontario, so whatever you see in stores is almost certainly Chinese or Mongolian. I did find a yak farm in the Lanark Highlands that will send me some fibre in the spring, so I don't have to rely on imported sources. I'm hoping to be a little more confident in my technique by then too.