Having experimented with cotton solely on a Takhli spindle, I decided to try it out on a wheel. I chose the SuPima sliver from my All About Cotton Kit because it has a relatively long staple length and is therefore less likely to fly apart into tangly bits when the wheel gets going fast. Irene at Cotton Clouds had recommended sitting far back from the wheel and using a long draw, which I tried, as well as a short worsted draw. Ultimately a kind of point-of-contact drafting style seemed to work best, even sitting rather close. I've carded a few punis and will try them next; I imagine they will work better long draw.
Edited to add, based on a comment: I spun this on my Lendrum folding wheel, using the fast flyer at a 12:1 ratio. I tried at 17:1 but it was too fast–the spinning went much easier at a slightly slower ratio.
The finished yarn reminds me of kite string. It would make nice weaving yarn (or perhaps I say that because I don't care for knitting with cotton).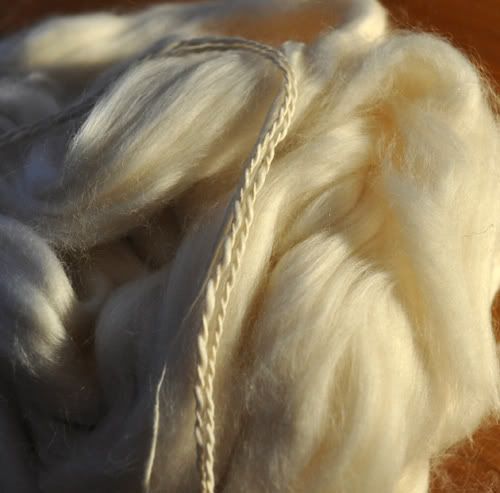 With a quarter for size comparison: