Seriously, I do. I've taught two classes at Ariadne Knits so far, with another scheduled for early May and more in the works. The response from my students has been overwhelmingly positive and I've loved being able to share the craft with others. I've noticed that people generally start out the class a little nervous, unsure of what they're doing and how to get from fluffy unspun wool to yarn. However, there's this moment where everything clicks and people smile and relax and suddenly they can't stop spinning. I scheduled a break during the second class and announced, "Okay, now we'll break for 15 minutes and there will be no official instruction. Feel free to get coffee or snacks, or keep spinning if you want." Just about everyone kept spinning which, when I think about it, is exactly what I did when I was taking spinning classes too.
Not only does it feel great to teach others and have them fall in love with the craft, but I've met a lot of wonderful people through these classes as well. I've been making a lot of new friends and connections, and it's exciting to be involved in the fibre arts scene as it starts to really take off in this area (Ontario/Quebec), and in spinning itself (which I see as about to become 'the new knitting').
I'll be doing one more beginning spinning class at Ariadne in June and adding in a Spin 102 class as well, and meanwhile I'm starting up some beginning spinning classes at Workshop Boutique here in Ottawa. It's keeping me busy but I love it.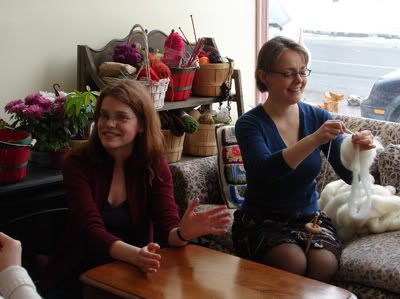 Photo from my first class at Ariadne Knits.