Following my visit to the Glengarry Pioneer Museum in July, I visited again today for their annual Harvest Festival. A couple of friends from Montreal met me there, where I got to spend lots of time connecting with local fiber artists (I now have a heap of Clun Forest fleece set aside for me, for free) and watching the old-timey demos and of course, eating lots. First among the good local food was freshly made butter, which apparently takes 40 minutes of hand-cranking for a pound: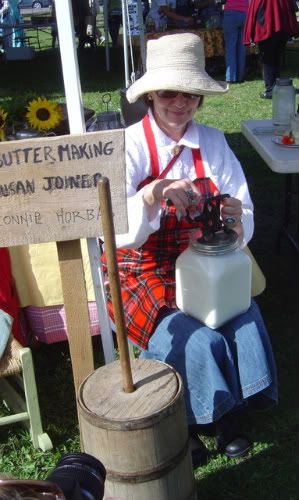 Quite a few spinning wheels in use, including this Schacht Ladybug–I brought my spindle, finishing up some Fleece Artist top I bought way back in the summer of 2007 at Effiloche. I figured it was time to finish it already.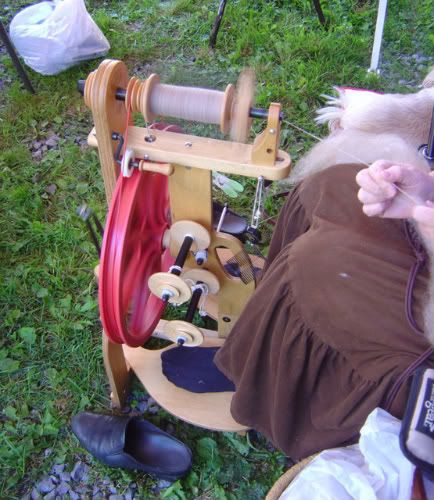 The most fashionable donkeys wear silk scarves. These two, along with two others, were abandoned in a field when their owners moved. As you can see, they're in much better care now: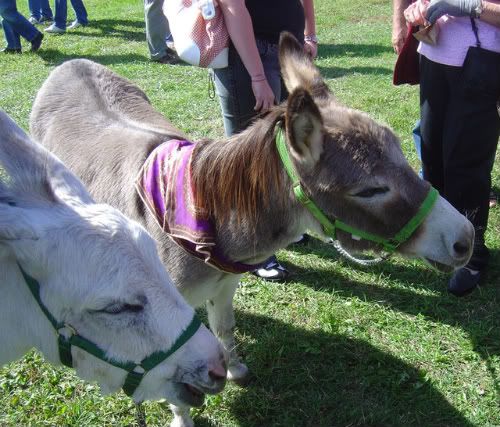 The equine part of an equine-powered hay baler:
Speaking of horses, there was a horse parade that showcased some of the prettiest draft and other driving breeds I've seen. Percherons, Belgians, a Morgan, Canadians, Shetlands, Haflingers, etc. This guy was a bit of a nutbar:
Like any self-respecting public event in eastern Ontario, they had Beau's on draft. Keg problems meant mine was half foam, but I got two for freeee: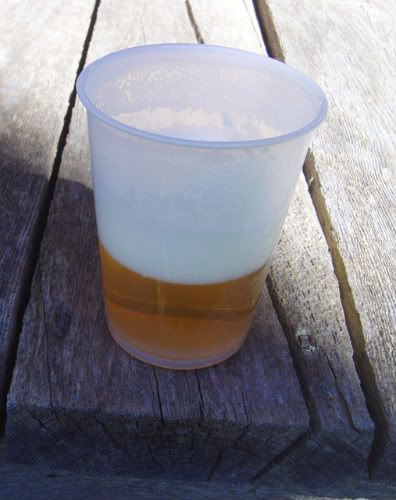 Much like my last visit, some sheep got sheared. The shearer (with "Sheep Shearer Ross" embroidered on his ballcap) was an entertaining guy with a very strong Ottawa valley accent; he drew a big crowd: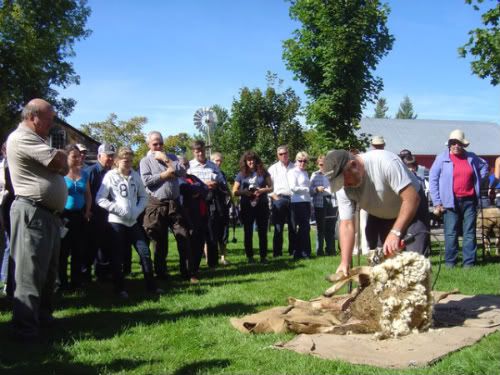 And lastly, some children in a potato swine chow sack race. The kid on the left won both races with a fantastic and painful-looking crash across the finish line each time:
A busy and lovely day with friends, and many more pictures of it wouldn't fit on the blog (including me and the champion zucchini). Suffice it to say, I'll be back again next year.